£20 Welcome Bonus For 3 Card Brag

Betfred Skill Games has just launched a new game offering, perfect for casino and skill game players – it's a multi-player version of 3 Card Brag. It's a game we all know and have played.  You get 3 cards, and your cards must simply beat the dealer to win.  I've played 3 Card Brag many times, and have found a good strategy to adopt is to bet when you have a Queen or Higher as one of your cards, or a Pair of anything, or 3 of a kind of anything.  If I have lower cards in my hand, like a 5, 8 and a 10, I would typically fold. However luck can be an interesting thing – and if you have your own strategy you should apply it.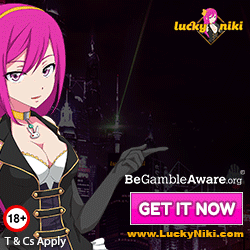 Some players play only the Ante bet and use progressive betting systems.  Some players swear by the Pairs Plus and other similar bets, to gain the higher payouts on the game.  If you're going to play for profit, then I recommend Pairs Plus, from personal play experience.  It adds a bit more excitement to the game, and if you get a good winning streak it can feel almost as good as winning a roulette wheel spin! 
Regardless of how you play, take Betfred Skill Games up on their very kind current offer of a £20 Welcome Bonus.  It's always more fun to play when the casino is matching your stake – it reduces your financial risk, gives you a better chance to win (as you're only taking half of the financial risk each time you bet), and extends your overall playtime.  Most importantly, enjoy playing 3 Card Brag at Betfred Skill Games!