Bet Small, Win Big – Betfred Casino Winner

Here at How to Beat the Casinos, we always love to hear about casino winners! After all, that's what our website is here to do: help you win through smarter casino game play, the identification of great casino promotions, and good gambling bankroll and money management. So it was fantastic to hear about a recent winner at one of our online casino partners, Betfred Casino, who bet only 15p per line but managed to win over 60 thousand pounds in one spin on a progressive slot machine.
Betfred Casino have always been known as the true "Bonus Kings". On Friday the 6th of May, that was proven to lucky player ANDYNKIM, who won an incredible progressive jackpot on the popular 'Queen of the Pyramids' slot machine game. The player won £60,405.11 from a total spin of £1.35 (9 lines at 15p each). I've included a casino play history review screen below – you can see the win on Line 4.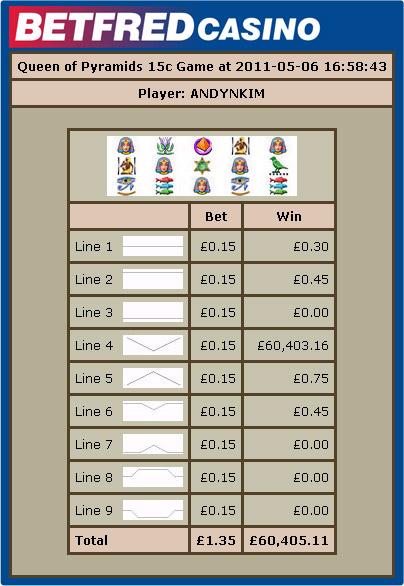 This win proves that you don't have to be a "High Roller" or casino VIP to win big at Betfred Casino! We've promoted Betfred Casino for some time, and I have personal experience of playing there. The games, based on the popular Playtech casino games platform, are fair, enjoyable, and you really do get a good chance to win – especially if you're a new player and benefiting from their up to 500 pounds initial matchplay bonus! As AndyNKim has proven, you can bet small and win BIG! Play at Betfred Casino now!
PS: To further sweeten your playtime with Betfred Casino, a Bonus King Cashback promotion is in place until the end of June 2011. Every day that you play in the Betfred Casino, you'll qualify for cashback. If you have any winnings on a day, Betfred Casino will add an extra 5% up to £50. If your luck is not good on a day, Betfred Casino will give you back 10% of your losses up to £100. You can find further details about this offer on the Betfred Casino website.