Blood Suckers Video Slot Redbet Casino
Blood Suckers Video Slot at Redbet Casino

Net Entertainment has come out with a great video slot machine for all of the vampire fans out there. The presentation is typical of all Net Entertainment games; it's colorful, full of thematic symbols, and sticks to the ambiance of the theme. The sounds are chilling, the symbols look like something right out of a horror film, and the winnings have potential to be huge! The standard 5 reels and 3 rows is how you'll play the game, and there are 25 pay lines.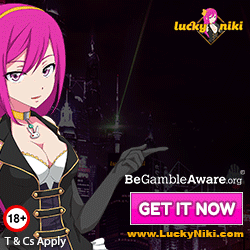 Your symbols are everything from garlic, holy water, the Holy Bible, and crosses (to ward off the undead bloodsuckers) to vampires, demons, and potions. The wild symbol for Blood Suckers is Count Dracula himself biting into the neck of a poor young girl who found herself on the wrong street late at night. When five of the wild symbols appear on any pay line, you'll get a jackpot of 7,500 coins.
The Scatter symbol is a female vampire (probably the poor victim of one of Count Dracula's late night street crawls) with blood around her mouth, and when 3 or more of these symbols appear on a pay line, you'll get 10 free spins. During your free spins, your bet line will be tripled. The Bonus symbol is a bloody mallet and stake over a coffin, and when three or more Bonus symbols appear consecutively on an active pay line, you'll be taken to the Bonus Game.
Here in the Bonus Game, you'll use that mallet and stake to try to kill the night prowlers. You'll be taken to a second screen, which is in an ancient burial chamber where twelve of the coffins lay. You'll click on the coffins to open them and then kill the vampires inside, winning coins as you go along. Not every coffin has a vampire inside of it, however. Out of the twelve coffins, three of them are filled with bats. Once you open one of the coffins filled with bats, you'll be taken back to the main game. So try to open as many with vampires for you to slay to maximize your coin winnings.
The presentation of this slot machine game is excellent, and the Bonus Game is a blast and is a great way to stockpile your coin collection in a hurry. Just make sure you don't stay up late at night playing Blood Suckers; even though it's not incredibly graphic, it certainly gets very creepy and will give you the chills!