Boom Brothers Video Slot Redbet Casino
Boom Brothers Video Slot at Redbet Casino

Boom Brothers is a new beloved video slot machine game available to be played at Redbet Casino. As soon as you sit down to play, you will fall in love with the Boom Brothers – they are three goofy, high antics brothers who have found themselves in the midst of a treasure mine, where they are digging for riches beyond their wildest dreams. The Boom Brothers get their namesake from their propensity to blow stuff up in order to retrieve the jewels and treasures they need to become rich. Two of the brothers are more hesitant in nature, while the third brother is the slightly unstable one who has a real fascination with explosives and chaos.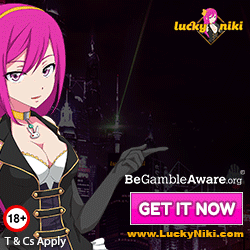 You'll be playing with 5 reels and 3 rows, with 20 bet lines to choose from. There is a bonus game in Boom Brothers that has an interesting strategy to arrive to; you need to land three of the Rail Track symbols on the first three reels, and then the last two reels will spin separately. If you manage to complete the rail way tracks across the board, the Boom Brothers can take their rail car to the bonus game that was previously unreachable (plus you'll also quadruple your winnings from the previous round!).
In this exciting slot machine bonus game, you'll have to choose between the three rail carts that are attempting to blow their way through the wall. Depending on the cart you choose, you could win gems, some pure gold, or even a multiplying feature that will give you three times the winning of how many stepping motions it takes the dwarf in the cart to reach the wall. The Wild Symbols are an added benefit of Boom Brothers Video Slots, as they will substitute for any symbol you are missing on the board to complete a winning combination, and will pay the highest winning combination based on the Pay Table. You will know you have found the Wild Symbol, as it is represented by the ticking bomb that is ready to explode.
You will also be able to take advantage of the free spins feature in Boom Brothers; for every free spin symbol that you get, you will multiply your winnings by a factor of three, all while earning additional spins to try to make the most of your luck down in the mines with the Boom Brothers. Head on over to Redbet Casino and give the lever a pull- you are bound to run into some excitement with the Boom Brothers leading the way.