Casper Slot Machine at 888 Games
Casper Slot Machine at 888 Games

The original cartoon story of Casper came out as an interesting subversion to the accepted idea that ghosts were scary, mysterious beings that came around to wreak havoc. Instead Casper was, well, friendly. His fame grew in the middle of the twentieth century to make the name "Casper" synonymous with the fun-loving ghost who meant no harm and just wanted to find friends. Well now Casper has plenty of friends, and a lot of his popularity has to be due in part to his success as an online slot machine at 888 Games. It's hard not to have a lot of friends when you're paying out as well as Casper.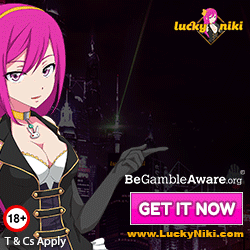 All of the symbols on this 5 reel, 4 row, 40 pay line slot machine game are related to the Casper franchise, including Stretch, Stinky, and Fatso, the trio of silly ghouls who Casper hangs around with, along with the 9, 10, Jack, Queen, King, and Ace symbols. Casper himself plays the role of the wild, and when he shows up, you're in for some friendly rewards. Casper's wild will substitute for any other symbol on the board, except for the scatter symbol, and will complete any winning pay line for you.
The scatter symbol that will trigger the free spin portion of the game is represented by the Casper the Friendly Ghost logo, and it only appears on reels 2, 3, and 4. If you can land a logo on each of those reels at one point in the game, you can start spinning for free. You will only get 5 free spins, but during these free spins you will get access to the Mystery Mirror segment of the game. The Mystery Mirror will appear on your board and will mirror a random symbol on the board to essentially work as a substitute, giving you the chance to land multiple pay lines on one hit with the Mystery Mirror. If the Mystery Mirror does some of its mirror magic for the Casper the Friendly Ghost wild symbol, you could wind up with a multitude of re-triggered free spins to give you great earnings.
The Casper Slot Machine is a simple and fun game that will tickle you in all the right spots with the ingenuity of its free spin games and the unique animation of its ghostly characters and symbols. Head over to 888 Games and check out Casper's Slot Machine for a good time and some good winnings.