I've received quite a few gambling and casino jokes in my email lately, so I thought I'd share some of them with you. After all, we all need a good giggle from time to time – a sense of humour is a requirement when you're gambling often. Thanks to the contributors of these jokes – you've brought a smile to my face!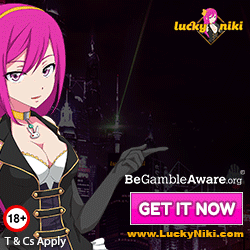 High Stakes
A man walks into a butcher's shop and inquires of the butcher: "Are you a gambling man?" The butcher says "Yes", so the man said: "I bet you £50 that you can't reach up and touch that meat hanging on the hooks up there." The butcher says "I'm not betting on that." "But I thought you were a gambling man" the man retorts. "Yes I am" says the butcher "but the steaks are too high."
The Bathroom Stall
Ned was down on his luck in Las Vegas. He had gambled away all his money and had to borrow a dime from another gambler just to use the men's room. The stall happened to be open, so he used the dime in a slot machine and hit the jackpot. He took his winnings and went to the blackjack table and turned his small winnings into ten million dollars.
Wealthy beyond his wildest dreams, Ned went on the lecture circuit, where he told his incredible story. He told his audiences that he was eternally grateful to his benefactor, and if he ever found the man he would share his fortune with him. After months of lectures, a man in the audience jumped up and said, "I'm that man. I was the one who gave you the dime."
"You're not the one I'm looking for. I'm looking for the guy who left the door open!"
Bored Casino Dealers
Two bored casino dealers are waiting at a craps table. A very attractive lady comes in and wants to bet twenty- thousand dollars on a single roll of the dice. She says, "I hope you don't mind, but I feel much luckier when I'm bottomless." With that she strips naked from the waist down, and rolls the dice while yelling, "Momma needs a new pair of pants!". She then begins jumping up and down and hugging each of the dealers. "YES! I WIN! I WIN!"
With that she picks up her money and clothes and quickly leaves. The dealers just stare at each other dumbfounded. Finally one of them asks, "What did she roll anyway?". The other answers, "I thought YOU were watching!"
Taxing Times
One day, at a casino buffet, a man suddenly called out, "My son's choking! He swallowed a quarter! Help! Please, anyone! Help!"
A man from a nearby table stood up and announced that he was quite experienced at this sort of thing. He stepped over with almost no look of concern at all, wrapped his hands around the boy's gonads, and squeezed. Out popped the quarter. The man then went back to his table as though nothing had happened."
Thank you! Thank you!" the father cried. "Are you a paramedic?" " No," replied the man. "I work for the Inland Revenue Service."