Hall of Gods Video Slot Redbet Casino
Hall of Gods Video Slots at Redbet Casino

Looking for a big money boom on the slots with a nice Norse twist? Enter Odin, Loki, Thor, and other Gods and goddesses from the lore of the Viking people to give you a unique play experience. Hall of Gods receives overall good ratings for its game play, attention to detail, and entertainment value.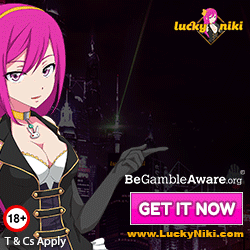 The game is simple- you play with 5 reels and 3 rows, with 3 jackpots available. As far as wild symbols go, Hall of Gods has a very neat feature in that the Midgard Serpent can substitute for another symbol to create a pay line. Along with this, Hall of Gods includes an expanding wild symbol, meaning it can take up the entire reel when it occurs on the latter reels. Getting an expanding wild on the right pull can result in a big money pay day for you, making it just one of the many features of Hall of Gods that separates it from your standard, mediocre slot game.
Additionally, there is a bonus game that lends another level of depth to the game as a whole. When three bonus symbols appear, you'll be taken to a side game that invokes the wrath of Thor's Hammer to determine your bonus prize. Three shields will appear on the screen, and you can then use the Hammer of Thor to break these shields on your second screen, and from there you'll know what your bonus payout will be. If you're lucky, there could be Bonus Jackpot icons hidden underneath the shields, resulting in the biggest paydays you've likely ever had from a slot machine.
Another benefit the game throws your way is the free spin feature. Anytime three Scatter symbols show up anywhere anywhere on your reels, you'll get free spins to take another shot at earning big bucks. The beauty of the free spin features on Hall of Gods is that you get more than just one. If you catch three on your screen, you get 10 free spins. Saw four? You get 15 free spins. Five? You now have 20 free spins. The Hall of God's mega jackpot is a very handsome reward for your time, as it's common for it to be more than five million!
You'll have a blast playing the Hall of Gods video slot game, and the time will fly with all of the bonus games and free spins you'll get, keeping your butt glued to the seat for just a little bit longer. Play Hall of Gods video slot machine now at Redbet Casino.