What is Jeopardy? The smartest gameshow ever to hit the television. What is Jeopardy Slot Machine? A great online slot machine available at Virgin Casino! The Jeopardy Slot Machine is bound to thrill – it has a WILD symbol that multiplies your award by 2x, a rich Jeopardy Bonus round, and a chance to win really big in the Final Jeopardy round. There are 9 paylines, and you can bet 1-5 credits on each payline.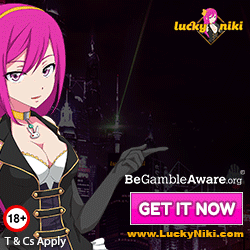 You can earn the Jeopardy Bonus by getting three Jeopardy Bonus symbols on a payline on which you have bet.

The bonus board is made up of 30 Jeopardy screens. Click on the screens to reveal award amounts, which accumulate and increase your bonus award. Revealing a "Daily Double" symbol multiplies your current award total by 2, and allows you to continue revealing awards. You can keep picking, and accumulating awards, until you reveal the "Final Jeopardy" symbol.

At this time you can shoose whether to take your bonus win, or to risk it in order to play Final Jeopardy. If you risk your win, you'll pick the Final Jeopardy contestant that you think will correctly respond to the clue. No actual skill or knowledge is needed. In each Final Jeopardy round, 2 of the 3 contestants have the correct answer, so you have a 2-out-of-3 chance of winning! If you pick correctly, your Final Jeopardy award is added to to your Jeopardy Bonus award to determine your total bonus win. If you choose incorrectly, your Final Jeopardy wager is subtracted from your Jeopardy bonus award, and you are returned to the main game.
Jeopardy is a fun game to play. It can be volatile – so a good sized bankroll is recommended – however the wins can be HUGE. Come and play Jeopardy at Virgin Casino today!