Las Vegas May 2017 – Trip Report Highlights
The casinos had some great promotions on when I was in town, and I had a really good time. I managed to make some good headway using some of these promotions to get a slight advantage, albeit on a temporary basis.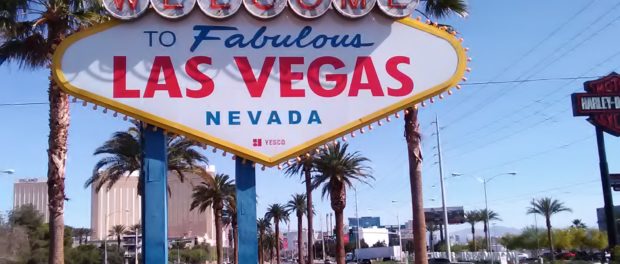 I've just come back from 2 weeks holiday in Las Vegas. You'll know if you've been reading my casino blog for a while that I'm a gambler myself. There's nothing I like better than getting into a good game of blackjack or baccarat, or gambling on a hot slot machine. And there's nothing I enjoy more than winning – especially when you're earning a mountain of comp points and free drinks on top of the return! So Las Vegas is one of my favourite places, and probably always will be. If you can't make it to Las Vegas you can of course have a similar experience in your armchair. Just join and play with any of the reputable casinos that we feature on this blog. You'll earn vip points for your play, have great payouts on the games (which are typically better than land based slots), and you can make yourself a hot cup of tea free. Feel free to join one or more of the casinos now – they offer excellent online value.
Las Vegas is changing, and I noticed that some casinos had reduced their slot inventory by 20-30%. It's not that there's no demand for slots – there is – but the demographic of the typical Las Vegas visitor is changing. I noticed less old and retired people there, but a lot more young people. I saw hen and stag night groups every night I was there. And bars that I visited were packed to the rafters with young people. Clearly Vegas has become the party destination for younger people. Millennials aren't really in to slot machines, having been weened off them by stories from their parents. So big casinos like the MGM Grand in Las Vegas are trying to introduce "skill gaming" areas as a way to encourage these young people to play games for real money. I looked at the games on offer and felt very underwhelmed. I really can't see this initiative taking off. So Las Vegas is becoming more of a place for nightclubs, nights out, and tourist shopping sprees – and less of the gambling mecca it once was.
Blackjack on the strip is definitely something to avoid with nearly all casinos now dealing blackjack that only pays 6 to 5, instead of 3 to 2. That's a 1.5% house edge on a game that used to be .54%. You can still get some real games in Downtown Las Vegas, but they're a dying breed, so get there quickly if you want to play. The online casinos we feature on this blog all pay 3 to 2 on blackjack… just saying. The food in Las Vegas is better than ever, with so many choices now and all at great value. I can highly recommend Las Vegas as a holiday destination for foodies. That's a big change from a few years back.
My own gambling performance was mixed. I had a great run at the start of the holiday, making money each day and keeping everything in check. About a week in the run changed a little. Part of this was because I developed a taste for free casino alcohol, and got a bit carried away. Let that be a lesson to us all – that alcohol and casinos mix, but never in a good way for the player. You should never gamble drunk. But saying that I didn't lose a lot, and I got so many freebies back for my play, including free rooms, food, and shows, that I can't complain. The value I got for my spending was simply amazing. And Las Vegas is one of the few places in the world that can offer such extraordinary holiday value.
There are such a plethora of new slot machine games available in Las Vegas, that it's hard to summarise the new slot machine trends. But there's definitely a trend towards bigger and more curved screens as used on the Sharknado and Elvira slot machines, and there's a definite trend towards multiple progressives on slots as used on Crazy Money Sky Wheel and others. The ability to win multiple dollars from just a small bet obviously appeals to players worldwide. Megabucks slot machines are always popular in Las Vegas and USA wide, but their base game slot machine payout is always low as a consequence of feeding the huge jackpots, so bear that in mind if you play. The Megabucks jackpot was around $11 million when I was there. It's a big sum, but as the biggest Megabucks jackpot ever won was about $37 million, I'll wait until it climbs up a bit before taking my chances. There's lots of great jackpots available online at the great casinos we feature on the blog that I can play on in the interim.
The casinos had some great promotions on when I was in town, and I had a really good time. I managed to make some good headway using some of these promotions to get a slight advantage, albeit on a temporary basis. Something "free" is always good, whether that's logo wear, playing cards, free alcohol, free slot play, or free comped meals. Land based casinos are excellent for this stuff. Online you can get some great joining and other bonuses of course – these concentrate more on free play and free actual cash than the land based casinos do. So there's something for everyone regardless of where and how you like to play.
I'll pop up some photos and some other blog posts here from my trip over the coming weeks, but in summary let me say that despite the changes that are occurring in Las Vegas, the area is still one of my very favourite holiday spots and I don't see that changing any time soon. For a gambling based holiday that has so much other stuff to offer, you really can't beat it. Feel free to ask me any questions by getting in touch through the site or comments or any of our social media platforms, and I'll do my best to answer them for you.