Monty Python Spamalot Scratch Card

And now for something completely different… It's the Holy Grail of scratch card games; a game based on Monty Python's musical Spamalot! Look on the bright side of life with the chance to win up to 10,000 times your stake and receive triple comp points for every bet placed on Monty Python's Spamalot scratch card game everyday throughout October 2011 at Betfred Casino!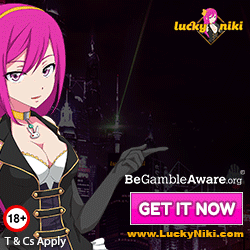 The Spamalot scratch card offers you the chance to win up to £150,000 simply by matching the prize symbol with any one of the other 6 symbols. Spamalot is exclusive to the Playtech casino platform with Betfred Casino being one of the first to release this exciting game. With original Terry Gilliam artwork featuring many of Monty Python's most popular comic characters such as King Arthur and the Knights Who Say Ni, and original audio, Spamalot is sure to catch the attention of all dedicated Monty Python fans! This scratch card is just the first instalment of the Monty Python series offered at Betfred Casino with the Monty Python Spamalot Slots to follow shortly.
Play the Monty Python Spamalot Scratch Card now at Betfred Casino. Don't forget that Betfred Casino offer all new players up to £500 free casino cash to play with – awesome!