P and O Cruises – Casino – Pacific Dawn

I was lucky enough to travel on the P and O (P&O) Cruises liner the Pacific Dawn a month or two ago. I enjoy a good cruise, with great company, great entertainment, and great food. And I also enjoy on-board casinos, which tend to be a little more relaxed than their land based equivalents. That was the case with this P and O casino on the whole, although I encountered a little heat from the pit boss when I had a "lucky run" on blackjack. It wasn't agressive or abusive heat, but he insisted on talking to me throughout the game for about half an hour – which ruined an otherwise relaxing time. I assume he thought I was card counting, and was trying to throw me off the scent / count. Whether that was the case or not, I still won. Talking to me becomes nothing more than background noise when I'm "in the zone". I thought the discussion length was unnecessary – but hey, I'm a player, and I understand the casino trying to protect their bankroll. The main dealing staff were helpful and very friendly and professional – and on that basis, I tipped them. Tipping is allowed on the cruise ship casino tables.
The casino is quite small, but has most of the games you'd expect, including 6 deck hand shuffle blackjack, pontoon, 3 card brag, and roulette. Note that there was no craps – which I know is a favourite game for American cruisers. Table limits were pretty affordable, ranging from $5 – $200 a hand from what I recall. I'm pretty sure the roulette wheels could be spun for $2 a number also. So this is good family entertainment value. Note that the currency used on board is the Australian Dollar – so travellers from other countries should convert accordingly.
There were also a range of slot machines (mainly IGT, Aristocrat and similar – many with individual machine progressive jackpots – and some without), which I estimated were probably paying back between 87% and 90% – but that's not a confirmed figure, just an estimation from my own experience of the various casino slot machine games on offer. With no competition in the middle of the ocean, there's no need for the cruise line to set them any higher. The slot machine games I saw included slot classics such as Zorro, Geisha, Indian Dreaming, Geisha, Buffalo, and Choy Sun Doa.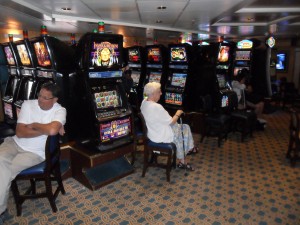 There is a players club on board, but it's pretty lame if I'm honest. The points are only valid for the duration of your cruise, and cannot be transferred across cruises or cruise lines. Table play did not accrue points, only slots, and you needed 1000 points to get a $10 cash refund. From what I could work out, it seemed that $1 of play gave 1 point. At $1000 in for $10 refund, that's a 0.01% rebate – which is less than a third of what many land based casinos offer. Considering you're on a boat in the middle of the ocean, and therefore a captive audience, the fact that there is any sort of players club at all is probably significant to note – but I wonder how many occasional players would ever reach the threshold required to see that $10. It's pretty tricky to get a free drink too – in fact, I didn't see one all cruise. The pit boss did indicate that signficant (and ongoing) table play when onboard may get you a free drink. (It's ok thanks, I'll play casino games online from one of the online casinos I feature on my blog, and get my own from the fridge – along with a much higher rebate, higher paying machines, and a wider range of games).
The general ambience of the casino was pretty good considering its size, and the cool blue colour scheme was easy on the eye. And the ever changing vistas outside the windows of the casino (assuming you take breaks to see them from time to time) are lovely. There's something very relaxing about playing casino games in the middle of the ocean – especially when you know there's a free buffet somewhere close by all day long. The casino tended to open around midday or a little later depending on the cruise itinerary, but the slot machines were open 24 hours a day when the liner was not in a port – which is good service.
Tip for advantage players: you can effectively play with credit on these boats, up to about $5000 AUD ($1000 AUD daily or thereabouts) for the cruise. All purchases in the casino (whether slots or table chips) are charged to your on board account. You can just settle up your account at the end of your cruise – in cash, or just a signature to charge your account directly to your nominated credit card. So if you're a credit card points fan (e.g. American Express Reward Points) then charging your gaming play may be a good move. Just be aware however that there is a surcharge made to the on board account when it is settled via any credit card rather than cash – which could affect your profits.
Have a great time on your next P and O cruise. If you're not planning to cruise, or you'd rather play online from the comfort of home in your pyjamas (as I sometimes do), then check out any of the online casinos we feature here, with their fantastic offers (e.g. 5 pounds / dollars / euros etc for Safari Scratch games and scratch cards – No Deposit Required – Most countries accepted., Get 10 pounds completely free – Betfred – UK Players only., 5 pounds free on the Grand Monarch Slot Machine at Betfred Games., 20 pounds free, win or lose, with 100 pounds deposit and playthrough on Virgin Games – exclusive to our site!). Many of these online casinos even offer Australian dollar play if required. Good luck wherever you decide to play. And do let me know of your experiences at admin@howtobeatthecasinos.com.