Press Your Luck Slot Machine

Get ready to Press Your Luck™ with five reels of fruity fun and two rich bonus features. Based upon the TV game show of the same name, Press Your Luck has 5 paylines. You can bet 1-5 credits on each payline. You can win up to £25,000 on a single payline! Press Your Luck is available at Virgin Casino.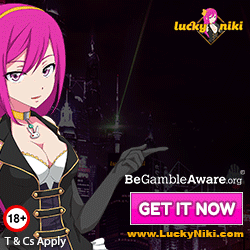 The base game has some great possible payouts. When I played, wins were frequent and in the low to middle end in value – making this a medium volatility, medium win machine frequency. What I particularly like about the Press Your Luck slot machine however are the bonus rounds: Slam Stop Bonus, and Big Board Bonus.
Earn the Slam Stop Bonus by getting the Slam Stop symbol to appear on reels 3, 4, and 5. The Slam Stop Bonus gives you the chance to earn serious cash by clicking one of the Slam Stop symbols. After you reach the bonus, each symbol displays a rotating award amount. Click any one of the three Slam Stop symbols to select your award.

Earn the Big Board Bonus by getting the Bonus symbol on reels 1, 2, and 3 on a wagered payline. The Big Board contains 18 different award spots, placed around the board. Each award spot is marked with an award value. The brightly coloured light dancing around the board indicates the award spot that is selected at any given time. To earn your award, click the red button or the STOP button to stop the coloured light on an award stop. The award spot the light lands on when you click the STOP button determines your award amount. Each spot on the Big Board is equally likely.

After you click STOP, three award spots (including the award spot you last landed on) are replaced with a Bust spot. Then you have a choice: take your win, or go for a chance to win more. If you click the TAKE WIN button, you return to the main game.
By clicking SPIN, you get a chance to add to your bonus winnings by landing on another award spot. On the other hand, if you land on a Bust spot, you lose your bonus winnings. Landing on a Bust spot ends your bonus round, but you won't go away empty handed; you earn a consolation award that you can optionally parlay on the Double or Whammy Board.

On the Double or Whammy Board, you can choose to take your consolation award or risk it. If you stop the light on a Double spot, your consolation award is doubled. If you stop the light on a Bust spot, you lose all of your winnings, and you are returned to the main game without winning any bonus award. Each spot on the Double or Whammy Board is equally likely.
You may continue to play Double or Whammy until you click TAKE WIN, until you lose by landing on a Bust spot, or until you reach the maximum number of Double or Whammy tries, which is 5. This allows for potentially huge wins in the bonus round!

How far can YOU press your luck? Play this great game at Virgin Casino now!