Shaaark Slot Machine at 888 Games
Shaaark Slot Machine at 888 Games

If you thought sharks were scary, think again. While the real life ones can be pretty horrifying if you're caught during a late night swim, the "reel life" ones in Shaaark Slot Machine are adorable caricatures of Jaws and his buddies.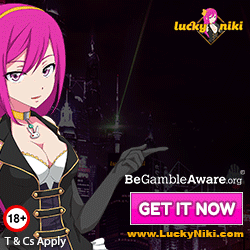 Shaaark Slot Machine is a 5 reel, 3 row video slot machine that has 25 pay lines and is available to be played over at 888 Games. All of the symbols are something right out of a mid-Atlantic seaside town in an American horror film. You will see a surf board with a huge bite taken out of it, a lazy beach dude in an inner tube relaxing ignorantly in the water, a "No Swimming" sign, a devoured license plate, the 9, 10, Jack, Queen, King, and Ace, a nervous looking seal, a large shark, and a shark fin.
The shark himself is the wild symbol in this game, and he will not only work as a substitute for any other symbol (except for the scatter) to complete a winning pay line, he will also double your winnings for that pay line! The scatter in this game is represented by just the shark's fin sticking out of the water. If you land at least three of the scatter symbols, you will get access to the free spins feature of this game. In the free spins, all of your winnings will be quadrupled, and wilds will appear much more frequently. All of these multipliers and free spins make your odds of landing large pay days more likely than in most other slot machine games out there.
The beauty is that you can continue to earn more free spins during the free spin features. When you get hot during this game, you will really be mesmerized by the coins flowing your way like a dangerous rip current. Another interesting feature to Shaaark Slot Machine is the Super Bet option. To play a Super Bet, just play all 25 pay lines with a bet level of at least 5 times your previous bet. This might sound like a lot, but during a Super Bet, certain symbols will turn into wilds, heightening the chances of landing a winning combination; keep in mind that landing a winning combination with a wild doubles your bet, meaning you could make at least ten times your initial bet back to you on one winning pay line.
Shaaark is drawn in fun animation, pays extremely well, and is very simple to get the hang of. Go over to 888 Games today and give it a shot for yourself. Get bitten, get cash. Easy money to be had here!