Wish Me Luck – Playing Poker

Now I'm not a huge fan of poker. It's not because I don't like the game – I do. But I just feel its unfair to take money off other people in order for me to win. I prefer house banked games like blackjack and baccarat, played against large casino corporations, who can afford to lose a few thousand at a time. I like to take their money – but I don't want to feel any guilt afterwards. Sadly, when you're winning in poker, you are taking any money won from a fellow PLAYER rather than the casino. That sucks in my book – although I know many of my regular blog readers will have no issue with it. After all, gambling is gambling right?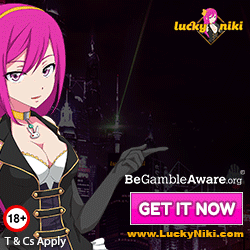 Tonight I've been offered a seat at a VIP invitation only event at my local casino. There's about 50 seats in all, and prizes for the top 3 players (I'm not even sure what they are – I think $500, $1000, and $2000 or something like that). I'm not expecting to win – but hey, if I get to the top table even, that would be cool. You see, because of my dis-inclination to win from other people, I don't play poker very often at all. Maybe 2 or 3 times a year. So I don't rate myself very highly as a poker player. I stick to blackjack and the other games I play well.
Anyway, as I believe that luck is a big part of poker, wish me luck! Perhaps if enough readers of this blog send good lucky vibes my way, I'll do better than I expect! You just never know when it comes to gambling. I'm not superstitious, but I do think there are lucky and unlucky days, and lucky and unlucky cards. And honestly, where poker is concerned, I need as much luck as I can get!
Itching to play poker yourself? There are some EXCELLENT poker websites featured on my blog (look in the right hand column of the site) and many offer FANTASTIC sign up bonuses. So feel free to click on the adverts, and visit the sites. If you should end up joining and playing on one of those sites via my blog, let me know at admin@howtobeatthecasinos.com as I'll send you a very special gift as a thank you! And good luck to you when you do play – it's only fair for me to send you luck, as you're sending it to me! We're a team! Let's all continue to beat the casinos together!